The Patisserie, Inc. dates back to 1968 when founder, Rolf Winkler, wanted to provide Honolulu's Retail and Wholesale customers with quality pastries and cakes. His vision inspired Michel Martin, world renowned Chef and restaurateur, to invest his expertise and capital, and company operations began.
Over the years, Rolf Winkler worked hard and grew the organization into a successful business. What started as a 3,000 square foot bakery/retail store with only 10 employees grew to a 9,000 square foot facility with more than 90 employees, and several restaurant/retail stores serving the public in prime locations. The Patisserie has continued to serve the public in Hawaii without interruption and currently the bakery operates 24 hours a day, seven days a week to provide customers with fresh, trans-fat free products daily. It continues the tradition of producing Rolf's Lavosh, a popular item in retail stores and fine restaurants for more than 35 years.
In 2004, the founders decided it was time to retire and, after searching for just the right person to carry on their long-standing reputation and tradition of quality and service, brought Robert Paparelli, a third generation baker and entrepreneur, into the business. Rolf spent time with Bob to insure that the transition went smoothly with no loss of confidence by the public. Under Bob's leadership, The Patisserie grew and subsequently was moved to its current 27,000 sq. ft. location near the Honolulu Airport. This production facility provides all of the necessary space to produce and distribute its products without loss of quality.
The Patisserie gets involved with its community and local Hawaii events. Annually we participate in feeding the needy of Oahu in an outreach to approximately 5000 people with a complete Thanksgiving dinner. In July of 2006 we produced and decorated Hawaii's largestcake for Honolulu Advertiser's 150th Anniversary and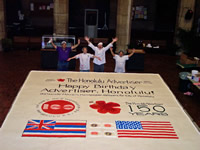 City of Honolulu's 100th Anniversary. It was 15' x 18' and weighed approximately 1170lbs (900lbs of cake and 270 lbs of butter cream icing) it took over10 hours to decorate with 4 decorators and 6 helpers.